My first memories of tennis were watching Chris Evert on TV. My Mom always loved how feminine she was, with her bows, pretty dresses and hoop earrings, compared to most players of the day.
Here in the Bay Area, it is the week of the SAP Tennis Open. It's always an exciting time if you are into tennis. We all play tennis in this family, and so on Friday night, the four of us got to go to the quarter-finals and see Andy Roddick and some other very good players. Besides Roddick's usual bad behavior, we had a fun night.
Last year, my oldest son, Jackson was a ball boy and that was fun to watch too. I also was a ball girl for the ladies' Avon tournament with my high school team, a thrill at the time. I still have my Prince racquet cover with autographs of Chris Evert and Martina, whom I ball chased for!
I didn't play tennis in college and kind of stopped for a long time. Almost 25 years since graduating from high school, I started playing again. I am thrilled that my boys like tennis as much as I do. Watching them gave me the courage to start again. It's been about 4 years now, and I play on a USTA ladies team. I am not by nature an athletic type at all, but I forgot how much fun it can be to play a sport. I am having a ball, meeting the nicest people and working on my game. Reminiscing with my son about my own experiences made me think about how much tennis has changed in the 25 years plus, since I was in school.
Borg and McEnroe. Don't you love the headbands?
Tracey Austin 1980s in a pinafore dress. Love the pom-pom socks! We all had those.
Vitas Gerulaitis, was a wonderful player. The white Nike's with blue swoosh are classics.
When I was 7 we moved to a very suburban track home neighborhood, that had a little tennis club within walking distance. Dunnett's Tennis Club, sadly no longer exists and was inexplicably bull-dozed to make more parking for an a rental car office. The little club will always live in my mind as a special place. My Mom walked me over there when I was in fourth grade, to sign me up for lessons. My tennis pro was named Bonnie and I adored her. I remember buying her a mug with her name and a rose on it. For my classes, my grandmother sewed me two custom tennis dresses, that I helped design. One was a white swing dress with blue and red piping and ruffled pants to match. The other was a white pique halter style with crossed racquets on the collars. I still have one of these somewhere.
I loved everything about tennis and being at the tennis club. Even at age 9, I remember the exciting people who seemed to belong there. There were dreamy boys who drove MG Midgets and green Triumph TR7 convertibles and glamourous ladies in elegant tennis ensembles. I drank it all in. This was not my reality. We were a middle class family, who played tennis at the local park and who did not belong to clubs. Something about this lifestyle was then and still now so appealing to me.
Borg in graphics.
I continued off and on with my tennis. When I went to high school, my friend Monica convinced me to go out for the school team. We did and loved it and I'm so grateful she talked me into it. High school was the early 80s and the age of Swedish hunk Bjorn Borg, (who adorned my teen-age walls), Chris Evert, Martina Navratilova, McEnroe, and so many other amazing players who dominated the game. When I look back to those times, they all look so clean-cut and preppy. I love the whites and stripes and sweaters that they all wore. The headbands,sweatbands, jackets and sweaters were their colorful accessories to the still mainly white wardrobes. I still admire those styles!
Borg again. Love his style!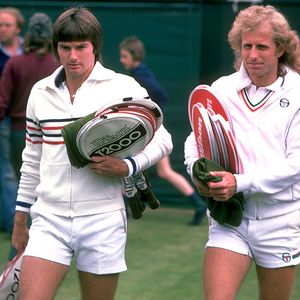 Conners and Gerulaitus. Love his sweater and white shorts. What a funny and amazing guy Vitus was. After finally beating Conners after a 16 match losing streak, he famously said, "Nobody beats Vitus Geralaitus 17 times in a row!" :)
Today, whites are almost nonexistent on the courts! Friday night's SAP players sported brights in clothes and shoes. I am the first to like bright colors, but there is something about the formality and tradition of the whites that I miss. It made tennis seem a little more gentile than other sports and it was one of its great appeals. I love that they could dress like ladies and gentlemen, but still be some the greatest athletes in the world. In honor of the past champions, here's a small gallery to inspire you, whether you play tennis or not.
Borg and Conners. nedgallagher.com
Jimmy Conners
Evonne Goolagong of Australia, 1970s. Love her scalloped dress.
Ivan Lendl in argyle.
Bring back the tennis cardigan! Virginia Wade with the Queen, Wimbledon 1977.
Her sweater was monogrammed.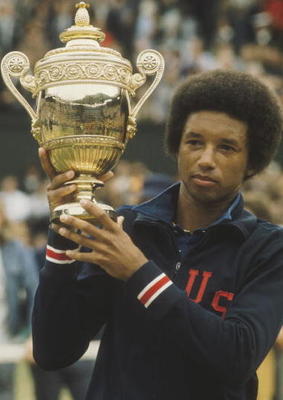 Arthur Ashe, gentleman and American legend. Wimbledon, 1975.
Chris Evert still ladylike in the 80s. Check out that wooden racquet.
All the girls on my high school team wanted that one.




Yannick Noah. My son cannot believe how short the men's shorts were in the 80s.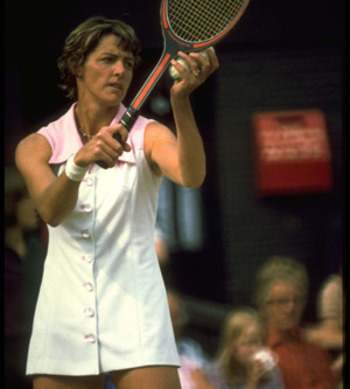 Margaret Court 1970s. An Australian mom who quit tennis to have kids and came back.
She has won more titles than any other woman.



Bjorn Borg 1976. Loving the pukka shell necklace too. via theselvedgeyard.wordpress.com




Borg after defeating McEnroe, 1980 at his fifth Wimbledon title.
Arthur Ashe for Rolex.



Martina Navratilova in a cable knit sweater.


No one in the world of men's and women's tennis still has a better win/loss percentage than Chris Evert. She personified grace on and off the court and still does. News Flash! She recently agreed to design a new line of traditional whites for Ellesse Tennis to be out in 2012. Everything old is new again!



Etsy.com